Witches Hammer "Damnation Is My Salvation" LP
---
ANTI-GOTH 487

Regular Version: Black vinyl LP, 3mm jacket, and insert.
Die Hard version: Gray/white marble LP, 3mm jacket, die cast metal pin.
(Description by J. Campbell)
Although they only released a few demos and a 12" EP during the band's original active period (1984-1990), Witches Hammer occupies a prominent place among the pantheon of Canadian Speed Metal masters. The original lineup featured guitarist Marco Banco, who was just 15 years old when the band recorded its first demo, vocalist Rayy Crude, bassist Steve "Naïve" Withrow, and on drums, Rayy's brother, the late John Prizmic. Witches Hammer's name may not have been widely known during the band's existence, but they were a crucial piece of the Vancouver extreme metal scene, most notably through their influence on the members of Blasphemy. (Banco would, of course, later play guitar for Blasphemy on the legendary "Fallen Angel of Doom" album.) In the early 2000s, NWN! worked with Banco to re-release Witches Hammer's demos and s/t EP, as well as the previously unreleased MLP the band recorded in 1988. Indeed, NWN!'s relationship with Witches Hammer is one of the longest-running associations the label has established through the years. In 2018, Banco and Crude decided it was time to revive the band and assembled a new lineup capable of delivering the blistering, sinister speed metal for which Witches Hammer is known. Their appearance that same year at the first installment of the Never Surrender fest in Berlin exceeded all expectations, proving that their reemergence was consistent with the band's legacy without being a sterile imitation of their prior catalog. The response to the recent Witches Hammer live performances has been uniformly positive, further reinforcing Banco's and Crude's resolve to press forward. The result of this effort is the astonishing "Damnation Is My Salvation" album. The current band's sound is a perfect extrapolation of the earlier recordings. Witches Hammer delivers the same primitive, evil thrash but slightly blackened and more technical, tastefully reflecting the unavoidable influence of the musical developments during the intervening years, achieving a sound reminiscent of bands like Ares Kingdom and Destroyer 666. Three songs on "Damnation Is My Salvation" are re-recorded versions of classic tracks from earlier releases; "Frozen God," "Deadly Mantis," and the eponymous, "Witches Hammer" all originally appeared on the band's demos, but are now revived and repurposed for this new lineup. The other tracks, all newly written and recorded, are masterful. Directed by Banco's virtuosic guitar work, Witches Hammer deliver a searing frenzy of wretched riffs, frenetic bass, and relentless percussion, perfectly complemented by the barbed rasps of Crude's menacing vocals. Few bands, if any, have reformed after decades of inactivity to produce such a powerful addition to an already tremendous catalog. With this album, Witches Hammer both reinforces and builds upon its significant legacy.
Some people are very uninformed about the origin of the symbol on the cover so I copied and posted this from a fan page about Banzai Records: 
https://banzai-records.jimdofree.com/speed-metal/
Speed Metal Swirl
The speed metal swirl logo on the sleeve of the more aggressive releases, was a Michel Meese marketing idea. Put together by in-house Polygram graphic artist Gunther Woschank, and added mostly to the front cover, sometimes the back, or other times both! It seems that the swirl was actually made of an existing design with the words Speed Metal added. A similar symbol was found on a Shediac, New Brunswick phone book vinyl cover dating from 1976. There are 18 Banzai releases that bear the logo. A wide spead belief is that since 6+6+6=18, it would be the reason why it stopped at 18. It remains to be verified! What is certain, is that many collectors are actively seeking the canadian "speed metal swirl" versions of these albums, making them most of the harder to find Banzai releases.
 Note that some of the cassette version of these albums don't have a swirl. (ex: Thrust, ...)
BAM 1003 Hellhammer - Apocalyptic Raids
BAM 1004 Destruction - Sentence of Death
BAM 1007 Celtic Frost - Morbid Tales
BRC 1925 Voivod - War and Pain
BRC 1926 Thrust - Fist Held High
BRC 1934 Bathory - s/t
BRC 1942 Destruction - Infernal Overkill
BRC 1951 Kreator - Endless Pain
BRC 1952 Warrant - The Enforcer
BRC 1955 Bathory - The Return...
BRC 1958 Running Wild - Branded & Exiled
BRC 1959 Iron Angel - Hellish Crossfire
BRC 1962 Tyrant - Mean Machine
BRC 1965 Possessed - Seven Churches
BRC 1970 Living Death - Metal Revolution
BRC 1972 Kreator - Pleasure to Kill
BRC 1973 Voivod - Rrröööaaarrr
BRC 1986 Cryptic Slaughter - Convicted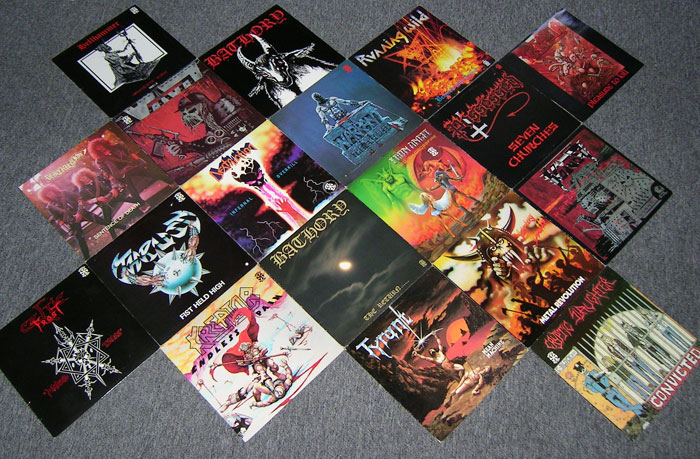 By today's standards, those albums would be in different classifications of thrash, cross-over, black and even death metal. It is also not known why a band like Destruction, whose sound was the same on all 3 of their Banzai releases, only had the speed metal swirl on the first 2! Same for Iron Angel and Celtic Frost.
The swirl can also be found on a Celtic Frost bootleg "A Night in the Dark". It was either stolen or borrowed, but it hasn't got anything to do with Banzai.
Many new obscure releases also embrace the swirl. It can be found on several releases by Nuclear War Now Productions, from bands like Blasphemy and Witches Hammer.
Related Products
---